Category ArchiveRoad Trips
I first became aware of Brian when I received an e-mail from him a few years ago.
Hey Sage, I noticed that you aren't to far away from me, are you going to the Lansing show? Let me know, my phone number is (616) XXX-XXXX.
I get to Lansing, the show is lame, but I give him a call. He's at the show. Brian M is pretty chatty, and I don't know what to think of him the first time we meet. He has a collection of barndoor parts that he bought and he is pleased.
A Barndoor bus is is the original design. Buses are broken down in this way: 1950- Mid 1955 are "Barndoor"
1956 – 1967 are "Split Window"
1968 – 1979 are "Bay Window"
1980 – 1984 are "Vanagons"
All VW's after this are not consider as part of the vintage community because they have watercooled engines.
Barndoor owners are unique. They tend to have an ultimate respect for VW buses, because these vehicles are finicky, hard to find parts for and usually 3 – 5 times more expensive to purchase, even if they aren't in good condition. To own one, you make a statement: "I am insane and have a lot of extra time"
Brian owns some of the oldest VW buses in the world. He loves the community very
much, and knows more about Barndoors than just about anyone I have met (except the owner of TheSamba.com). I have been giving lip service to visiting him for a while now. On the way home from a recent road trip, I took the time to stop by.
Brian is single, and has a smaller well kept house in Holland Michigan. He greets me with a high energy smile. He's about 6'2, and lanky, he talks fast. The first thing I notice is the Barndoor Ambulance in the driveway. He is working on it. At first glance, it is worse than my 23 project. The front has a lot of rust, the interior is stripped, there are dents and other things that often plague buses.
"This is the second oldest Ambulance that has been uncovered in the world" he says with a tone of pride. "I am getting it ready to drive to The Classic."
The Classic is in Orange County California. That's 2145 miles one way, if you take the direct route. This bus is hammered. I can't imagine driving it 100 miles. Needless to say; Brian is hardcore.
He gives me the tour, talking about the over priced rear door he purchased in Japan, and some of the other parts he has to complete it. He will rebuild the engine and transmission
for the trip.
When he is done showing me the ambulance, he opens the doors to his simple single bay garage. This is when he gets really excited.
"This is the oldest known truck"
Single cabs were not part of the original bus plan for VW. The VW bus was designed as a simple to operate vehicle to carry cargo. It's design is genius, because these small trucks can carry more cargo than many full sized vans or station wagons. It was the brain child of a Dutch VW Dealer who drew the original design on a napkin. With the engine in the rear, and you sitting up front, it creates a large area in the middle, and a well balanced ride. In 1948 an 1948 VW experimented with the Type 2 design, and they went into production in 1950.
The single cab pick up is something they started to dabble with in 1952, and Brian's is likely the second oldest survivor. He shows me all the parts he has been pain painstakingly collecting over years that will go into rebuilding this truck. A "B" pillar, and floor pan, the pick bed. All of it original, all of it not cheap.
We get done looking at his collection of stuff here, then he adds that the rest of his collection is at his storage unit. It's raining hard, and I am done with looking at the two buses he has here, I suggest that we go to the storage unit. It's a 15 minute drive, and when we arrive, it looks a lot like my barn; filled with parts and unusual stuff that he plans to use for trading or to help out other owners in the future. He also is paying a decent price for the space.
In here, he has a 52 logoed panel that he hopes to also put back together, plus one barndoor too wasted to restore, but it will be donated to getting the other three on the road.
It's been a few good hours looking at the collection that many would covet, but few people in Michigan would understand. We have dinner and talk about Holland and how he managed to get to Holland Michigan. That's another story for another blog.
I have been around vintage car collectors for a while. It is not unusual to see hundreds of thousands of dollars spent on a vintage car that is desirable. These are just like that. What makes the VW hobby so unique is that it is accessible to regular folks. Brian, one of the best collectors, is a machiner. He isn't very wealthy, but he can be a major player. Most of the VW guys I have met are like this.
I don't really want a Barndoor myself. To me my next project is all I really want…
TedFest was the brain child of a late night Chat room discussion. Teddy Bear is an old school cat who lives in Cincinnati Ohio, and has been around for a long time in the VW community. He's been in the online community since the Type 2 List was all there was.
Online communities have taken on a different shape with Facebook, and blogs like this one. Time was that everyone would email each other questions about things, and 10 people would reply. This was how Type 2 List started, and Ted was a part of it. He still has a stack of email's he printed out with good advice.
I met Ted on The Samba. Ted could always be found in the chat room, and he made idle time go faster. When I "Met" him at Everybus, we hit it off and hung out all weekend. Ted was selling Goldie, his mint 71 Westy, and was fairly somber about it. I had a good time having him show me around Everybus.
Last fall, I am on Samba Chat, and Ted starts tell me about the series of health problems he has coming. Heart surgery, possibly cancer, none of it good. He had also purchased a bug, and all these issues were complicating his hobby. Time passes…
Back to Chat in January, post surgery, Ted mentions he has a car load of old VW magazines he wants to get rid of. I have no interest, but one of the other online guys does. A weekend is established to drive from his home in Missouri to Cinci to get the magazines, and a moment of brilliance occurs.
"I need to come down too Ted"
"OK, everyone's welcome" I don't know if he really meant it or not, but it only takes one offer for most of us to drive hundreds of miles to sit on some guys couch for a weekend, so TedFest is born. I'd like to take credit for the name.
So my first road trip for 2009 is on…
The route includes one stop; Ed. Ed is a guy just about my age, who I met at Type 3 Invasion 2008. He is a career bachelor, and has an impressive collection of OG metal.
The plan for our trip is to take his newly acquired Porsche 911 Targa from Fort Wayne, Indiana, to Cincinnati.
This car is sweet in so many ways. I'm like Ferris Buhler in the passenger seat, except I am much older. 1973 Porsche's were built for the sole purpose of creating money for Porsche's racing operation. Way over built, they have a unique blend heavy quality construction, but light weight fast sports car feel to them. Everything about Porsche is logical. I am glad that Porsche logic can be found in VW's.
I get to Ed's place at about 2pm on Friday April 16. We had planned to get to Cinci by 4, so we are a little late. We take no time transferring my pack and tools to the small bonnet and we are off. Ed decides to take US 27 through the countryside of Indiana.  On a day that breaks 80, it was a fabulous idea. The drive takes us through a series of innocent small towns in Mid-West America. A bank, a grocery store, an auto parts store, and an occasional Wal Mart.  People milling about in each.
When we get into Ohio we are practically into Cincinnati. We call Ted at his office and he directs us in. The group of Fest attendees is really a collection of fringe type malcontents. Ted is a Jeweler, Russ is a retired engineer from Des Moines, Rob works on Point of Sale machines on Long Island, Dave is a Federal Employee in Missouri, then there is Ed (who makes drug test kits) and myself. After a tour of Ted's shop we are all ready for dinner. Traveling long distances often become cause for a meal, and Ted suggests a buffet.
I am not a fan of the buffet concept. Your goal is to cram as much food in so that you feel you are getting your money's worth. The restaurants goal is to keep you filled up with bread and cheap filler foods. Some where in the middle, you are done eating. It was a straight forward blue collar place. I had roast beef and water.
We head to Ted's house. It's a really nice place, in a quiet part of town. Ed and I are staying at a hotel, while the rest are shacking in various locations around the house (lord help his wife).
Friday night is a time for what we call "Live Chat". See, every one of us talk numerous times a week. It's like sitting at a bar without the alcohol or the tab. Tonight it is real time face to face, and pure bullshit. Ed's pouring Jack and Cokes, Russ, Dave, Ted, and Rob no longer drink.  I feel that I must keep Ed company to be polite.
I don't recall getting to the hotel on Friday night, but the staff is less pleasant to me on Saturday morning, and Ed is wondering where the Porsche is. By 9:30, the Porsche arrives, followed by Dave in his Jetta arrive.
I, as a rule, eat healthy. I travel a lot, and don't enjoy being fat, so I eat Oatmeal for breakfast as a general rule. The rest of this crew sees a road trip as a means to go "crazy"…
This means one thing to them Cracker Barrel . Here is a chain that makes the portly feel right at home. All those filler foods I avoided at the buffet? That's all they serve here. Pigs are contorted in so many ways in this place, I don't think they can be called meat any longer. We wander through the gift shop of crap (who puts a gift shop in a comfort food restaurant?) to our table. Any time a career waitress sees 5 nit wits like us be seated in her section, experience tells her a couple of things; this isn't a simple turn, and I will probably not enjoy myself. She proceeds with delivering a marginal experience. The disappointment comes when I go to order my staple at this place, and they are out of it. How can a restaurant with this much hick in it be out of oatmeal?! I get french toast, without fruit, or whipped cream or cheese or bacon or other unnecessary things. We mail a signed menu to our friend Jon as always, this time certified mail.
I enjoy taking advantage of hospitality as much as the next guy, but Ted has been recently sick. Unbeknownounced to him, the rest of us planned to help him get his project back on track. He needed his engine pulled, and some light body work completed. The one thing everyone there knows is VW's. We push the bug out of the garage. The engine is out in 22 minutes and stripped down in another 15. The fenders, nerf bars and other things that need addressing come out in a matter of 45 minutes.
All and all a rather productive Saturday. The rest of the day was excellent. Ted pulls out steaks, I manage to find some Bell's Brown Ale at a beer store and we sit around and shoot the bull some more and look at all of Ted's stuff. Dave loads all his magazines (the real
reason for this endeavor least we forget). Ed and I leave at 11pm with Russ asleep in a chair, Dave already in bed, and Rob playing with his laptop.
Sunday finds us in a nice Omelette Shop, and on to the road home to Fort Wayne and finally Traverse City (with a visit at Brian's place, but that is another story).
This hobby is something I have enjoyed growing into. 4 years ago I knew how to change oil and fill the gas tank. Now I can do almost anything (not always perfectly). The people who own VW's are a breed apart I am learning. There is a common glue. I like hanging out with the old guys like Russ and Ted. There is a mutual respect for a common passion. I know if these people lived in my town, I probably would have the privilege to get to know them like I do. As I journey on the death side of 40, this has become a pleasant escape for me away from the social politics and daily reminders and confinement that a small town offers. I can wait until I am on the road again, and next time I will be in my completed Westy 😉
May was filled with decisions this year. The first full weekend was the Michigan show, the second weekend was either Litchfield or the Grand Daddy of them all; the VW Classic in California. The 2006 classic was quite a show with numerous people whom I have met online in attendance. 2008 was again to be a good show, but as the show time approached, I again needed to make a choice.
Litchfield "Bug In" is comprised largely of people from the Atlantic Coast; Connecticut, New York, New Jersey and Massachusetts. 80% of the vehicles were bugs, hence the name. There were 4 Type 3's and a some neat buses, but all and all, it was the rain that seemed to be the main attraction. We arrived about two in the afternoon. Like before, I am driving a Toyota to a VW show. Luckily, Glenn Ring had driven a Honda to the show, and given his level of knowledge within the community, I figured I would simply be ignored.
Glenn is a pretty neat guy. He knows quite a bit about performance engines, and owns a 1974 bug he has had since new. After Martha fell asleep, he and I sat up and talked about things for a while.
RAIN killed this show for me. Despite having a chance to meet numerous people I had conversed with online, the rain prevented us from actually spending any time sitting around talking; which is a big part of many shows. Jon and Lindsay were busy selling parts, Rob wandered around looking at things, as Martha and I did.
My favorite car was this 1958 Karman Ghia convertible. This was owned by a guy named Rob whom I had a chance to speak with. He purchased it restored, but he has a vast knowledge of the older VW"s (pre 1960). It took about a dozen photos, in hopes it might inspire me to do something about my Ghia's. I hasn't yet.
There are certain times of the year when the weather can be predictably good or bad. It seems, talking to many of the regulars to this show, that you can depend on rain. I can honestly say after looking at rows of near mint condition bugs, that they just don't do anything for me. They are great cars, but they don't deliver a punch for me like buses do. Speaking of buses, I did find a few with Hurst bumpers. I know that an SO Westy camper is out of my reach, both for practical reasons and in terms of cost/benefit, but they are so cool. Maybe it's the gadgets, maybe it's the practical nature of them, but it is why I am doing all of this.
My trip was just getting started, for when I left Litchfield on Sunday afternoon, my daughter and I headed for Manhattan. We stay at the Pod when we are there.. Lots to see and do. I had a chance to get a really good camera, and Martha visited American Girl Place.
After a few days in NYC, we headed to Princeton PA to see Steve Hamliton. Steve married My wife and I in Vail. He has been a good friend since 1983. He now works at Princeton Seminary, and it was nice spending the evening meal with him and getting a tour of the campus. Martha is really interested in campus life, and it wouldn't break my heart if she wanted to go to Princeton. While there, we spend about 3 hours at "The Princeton Record Exchange". This is perhaps the best used CD store in the US, and I have had the pleasure to go to dozens across the country. What makes this place so good? You can find titles here used, that I couldn't find new just about anywhere else.
Once we left Princeton, we headed home. It was a long haul, and The Penn Turnpike is really boring, but we got there in about 15 hours.
It was one of those times where I really let down my own schedule. I had purchased the 1969 Westy in anticipation of doing some road trips before selling it. But since the fall trip that afforded me the opportunity to meet Russ Wolfe
presented me with some maintenance issues. The engine was rebuilt in February at my buddy's shop. We redid the heads, and replaced the Cylinder, Pistons and Rings. New Spark plugs, oil cooler, and completely clean case and tin.
Everybus was to be the first show I could go to in one of the 8 buses that I owned at the time. When it came down to the departure date; I lost my nerve. It's wasn't because the engine wasn't ready to go, it was because I hadn't driven it enough to be confident, and I didn't have a connection in the Blue Ridge Mountains like Russ in Iowa.
I loaded my Toyota with camping things, alcohol, and Polar. The drive was to take two days with 1700 miles round trip. I left in the afternoon and planned to make it to Columbus OH. I drove and drove, it was a nice day. When I got to Columbus, I decided to wash Polar. He had his usual spring stench, and being presentable is always in dog fashion. We found a PetSmart with a U Bathe, and he was clean. We ended up in some little town south of Columbus for the night.
The next morning I was on my way. I headed through Athens, and Ohio University. I used the computer lab for a client call and to check my email, then I continued on my journey.
I enjoyed the mountains in West Virginia, but much of the rest of the trip was just roads.
I arrived, and drove into the circle where the VW's were parked. I was looked at and after I paid my entry fee, I relegated myself outside the ring next to a fifth wheel owned by some guy who was from the Thumb area of Michigan. I walked around, and finally stumbled on to Teddy. He is a jeweler from Columbus who is a regular on The Samba. We talked, I looked over his spotless 71 Westy named Goldie that he had just sold.
We did what any good VW people do who don't (actually) have VW's we started drinking. After a while of walking around looking at the show, I went on a walk.
Absolutely a great trip. There were numerous Split windows and dozens of people I had come across online. Most notable were Lovethosebuses from Canada, Jon and Lindsay from North Carolina, and Lou and Lis. Lou is retired and spends much of his life eating, planning on eating, cooking or talking about how he just ate. I met him origially at the 2007 Buses by the Bridge show in Arizona, but I don't remember and neither did he. His wife has a really nice earlier bug, and he has a pick up and a 61 Westy. I almost forgot to mention John. He arrived late, left the same day and said about 50 words the whole time. He is a fireman from Durham, and the type of guy that when he speaks, it's worthwhile. I (on the other hand) too often go for volume.
Most of the rest of the show was pretty normal. Walk around, drink, meet people (Rooster and his crowd were fun until he pointed his Mamma's gun at me). I brought some parts of my own to sell, but I only sold the gas gauge from my parted 66 to a guy named Mark from South Carolina. It covered gas money.
There was a blue grass band that was pretty good Saturday night, and a barbecue for everyone that was fabulous. It rained and that sort of dampened the experience, but it was fun.
The drive home was pretty normal, you just want to get home. Somewhere in West Virginia my rear shocks failed after all those miles pulling too much weight behind my truck. I bounced the rest of the way home, I thought polar was going to puke.
Although Everybus was fun, I read that they have moved it to the fall for 2009. I probably won't go back to this one. The FMBC is a pretty tight group, and it is sometimes hard to get to know people when they are there to see old friends. I am sure that where ever I go, I can find Samba pals, and I will plan accordingly in the future for that.
CTS would have been a great show and a better choice, but it was my daughters birthday that weekend, and let's face it; my little girl is much cuter than the average bus owner…
It is one of those moments in a persons life that you wait for. A 4000 mile trip in a vintage microbus. This time it was a 1969 VW Westy. I had purchased it a few months ago from the original owner. It took some work and the week before departure, I put over 30 hours planning, and tinkering with it. She is running tremendously, or so I thought.
Planning
Included 3 area: Packing, Mapping and coordinating a few client trips with it.
The Map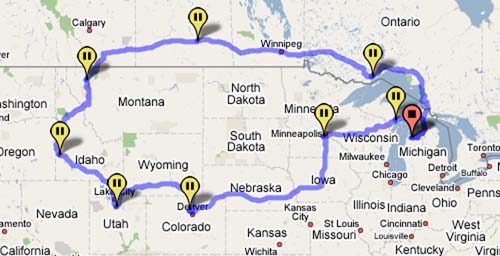 The original plan was to head across the Trans Canada from Sault Saint Marie to Boise then down to Colorado and across to Minneapolis and home. Then, after some thought about it, the route changed slightly to get to Denver directly then head north to the Bad Lands, and Regina SK and across to Winnepeg and down to Minneapolis, and home…
This was going to be a working trip. I have clients in Boise, Denver and the Twin Cities, so if I was able to bill my trip correctly, I would be able to pay for much of the trip.
To get packing I had assembled quite a list. My 77 camper was already set up for shorter trips nearby, but since the restoration, everything was placed in large plastic containers and put in the barn. Now I have to get re-organized.
Packing
The packing is broken into three categories: Sleeping, Eating and Business. The sleeping part is easy, good sleeping bag, pillow, headphones, shortwave radio, books, reading light, daub kit, travel clothes, jackets and extra shoes. Eating would require different kits than from the 77 as it already has a stove. I took 1 pan, 1 pot, 2 plates, 2 bowls, 2 glasses, 1 presspot, 1 tea pressmug, silverware, soap, rag, wash bin. The food, besides the various teas and coffee, would be purchased every few days while on the road.
The business travel items would be stored on the top of the bus. This list would include my computer, client files, 2 suits, 4 dress shirts, dress shoes, my business daub kit, ties, and separate socks and underwear. I can usually stay out for more than 10 business days with this set up.
My Dog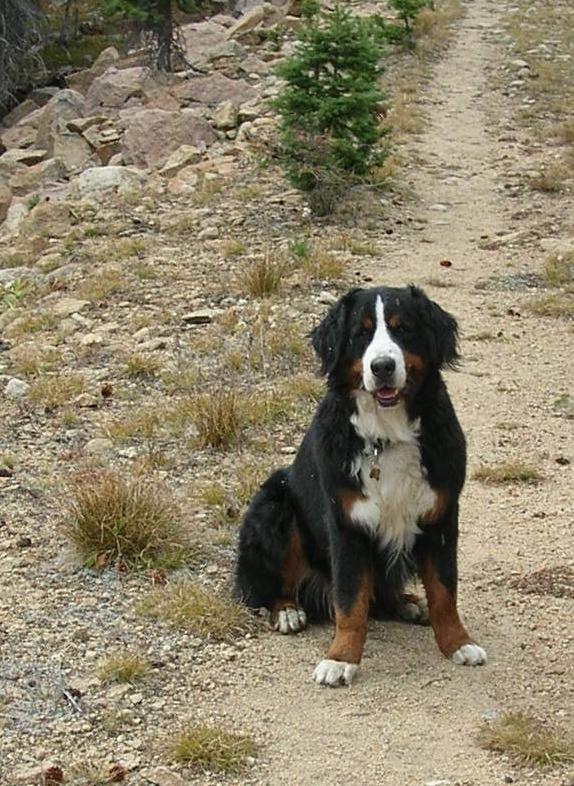 Polar was acquired from a 40 year Bernese Mountain Dog breeder in Lancaster County Pennsylvania. His sister is a best in opposite sex national show winner in 2005. Polar is shy, so shy that when I went with John and Martha to get him, he kept wanting to hide under the bed. He is very gentle, and protective. He would do anything for me, and I appreciate him.
Polar was to come with me on the trip. This was a requirement of Lynda. She likes our other Berner, Oscar, but Polar will follow her around all day. That drives her nuts.
Packing for Polar was easy: Food, leash, bowls, toy, done.
Departure
I was set. The plan was to head out on Thursday September 27. First stop: Quad Cities.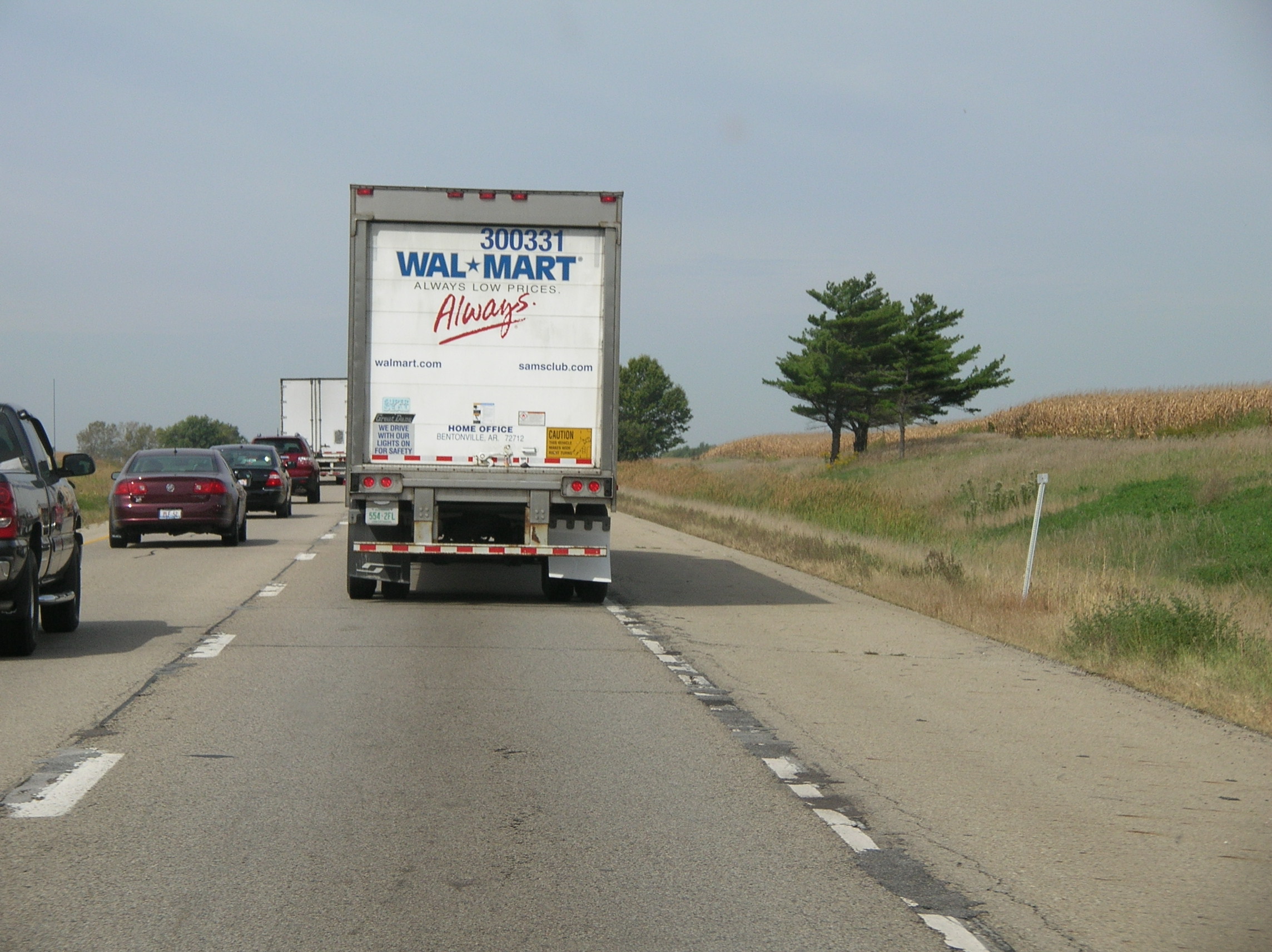 Iowa
This is where things began to fall apart. First, truck drivers are complete and through assholes in Iowa along I 80. Fast, pushy and driving like they want to be some place else. As I passed the point where Iowa City is to the North, the Iowa / Nebraska football game has let out. This means many many cars zooming by. So the decision is made to get behind a semi and just drive easy.
The Problem
Just about the Armada Colonies, the problems start.