Category ArchiveThe Project
I bought a Greyhound Bus
I have been a Volkswagen guy since 1992 when I purchased my 1977 Westfalia Bus.  Since then I have owned over 25 of them. I love the simplicity and the logic of these vehicles.  But time goes on, and I hit 50 this year, so it is time to move to something different.  In the late 1930's Raymond Loewy (famous for designing the Coke bottle) was hired to design a sleek art deco bus and the PDG4101 and PDG3701 were born. I have been in love with these buses since about 2005 when I scrolled the web looking for crazy projects.  14 years later, I pulled the trigger and bought a 1941, 4101-149 Yellow Coach (later to become the GMC PD3751).  This is a timeline of my relationship with this bus… 
Timeline of Restoration
9/23/2019 Purchase of Bus
9/27-29/2019 Blytheville Bus Rally
9/30/2019 Inspect bus for the first time
10/10 – 20/2019 Restoration Marathon One (See Playlist)
On-Going Budget
In September of 2019, after looking at them since 2005, I purchased a Greyhound bus. This is the tale of the first 10 days working on it…
We are in.
VW Sage now owns real estate.
I have yet to build a loft, there isn't any heat, but all my VW's  are safely in the new building and I am ready to move projects forward.  I have welding, painting, and the engine building stations build.
We are planning to build the loft in October, then we insulate the workshop and vola! we are in business.
This is a crazy dream, and one that I keep dumping money and energy into.
With this move I can finish Mrs. Sage's Squareback, and get the panel 64 camper back on the road.
I ripped open my ankle today on a transmission.  Damn, it feels good to be back at it.
Since I began messing with VW's in 2006 I have paid $10,800 in rent.  This reflects payments for over 6 years.  I enjoy this hobby, but to not be accruing equity is foolish.  So I have purchased a 30 x 40 pole barn and modified it for storage and my hobby.
It will be pretty nice; a heated work area, plenty of storage in a loft I am going to build.  When you start to look at this idea, it seems like a great way keep things going.
I am moving all of the stuff in this week. More photos to come.
I've been gone a long time.  Allow me to explain; I have children.  Getting greasy with bruised knuckles and bloody arms is really fun and all, but kids in order to brew properly, need attention.So, what's been happening in the last two year?  The best short explanation: Chat and Facebook.  If you are a frequent user of The Samba, you will know that I am on the site daily, and often in the Chat.  If you have come into Chat for help with your VW, sorry, we tend to be impolite.Chat is where I met many of the people I know from The Samba. But since Russ Wolfe past away, I haven't been in there as often.  Facebook is getting boring these days too.
So it was time to jump start the hobby.  The  best way to do this is stabilize my facility and build a more permanent shop.  To do this I bought a building.   It's not sexy, but it's a great size and it's big enough to house my buses and other VW's,
So I move my stuff this month, and I get the hobby back on track.  The next project is to finish the 64 Camper.  I have the body and paint work secured.  I am reworking the engine, and now it's a matter of putting everything back together.
It feels good to be back in my coveralls getting greasy.
I've been thinking about the desert.  Somewhere in me is a bit of recluse, and it's ready to burst out.  So I posted this on The Samba:
My fellow Sambanistas: I would love your input. I live in a beautiful part of the world, but it has lots of water. Lakes, Rain, Snow etc… 
I want to spend a week in the desert here in the US. Can someone give me an off the beaten path place where an old dude can just sit and read some books in the sun? 
* I need to eat 
* I need to be able to park the bus without hassle 
* I would like it to be pretty quiet 
* I need a bathroom and a shower 
Your thoughts on a cool memorable place would offer you karma beyond imagination.
After a few pages, I get this response:
I don't know of a desert place off the beaten path where you'll have a restaurant, bath and shower, except the following.

I made 33 trips to Death Valley before I quit counting. The first one was in July, 1970. I recommend you visit Furnace Creek Ranch. Try to nab one of the few shaded sites at the south end of the visitor center campground nearest the park HQ. The Ranch has a grocery store, restaurant, gas, and showers are available for a small fee at the pool. There are also showers among some cabins south of the store et al. Poke around and you'll find them. I've used them without challenge. The date palm grove near the cmpgnd has a ditch with flowing water around it. I used to go over after dark with my army shovel, scoop out the ditch so I could immerse my dusty body. Please use biodegradeable soap.

Pick up a map of the valley at your AAA office. If you're not a member, I suggest you join before taking a VW bus into the Valley of Death. Also take extra gas. Fuel is expensive at the Furnace Creek station. I took two 2 ½ gal. cans of gas and planned refueling stops over in Beatty.

You say you want to sit and read, so I'm assuming you're probably not interested in driving the long dusty road to The Racetrack where rocks move across the dry lake playa. But, please don't miss the ballet skits performed by Marta Becket at the Amargosa Opera House in Death Valley Junction. This gal is a oner! Ask at park HQ for her schedule. Go over early and stroll around the old borax company buildings. It wouldn't be right if you didn't also drive down to Badwater, the lowest spot in the Western Hemisphere at -282 ft.

Always be alert for sidewinders.

Take at least five gal. of water in your bus when you're traveling in desert areas. Drink fluids often, even though you don't feel thirsty. With ten percent humidity and high heat, you don't realize how much water you're losing.

Enjoy.

Buscuss
Several of the options that were recommended to me seem pretty cool.  Fall is the best time to go.  October is traditionally the time when I take a Sabbatical, so this might be the trip.  I'd like it to be in the 64 camper.  There's lots to do before we are ready to take that journey.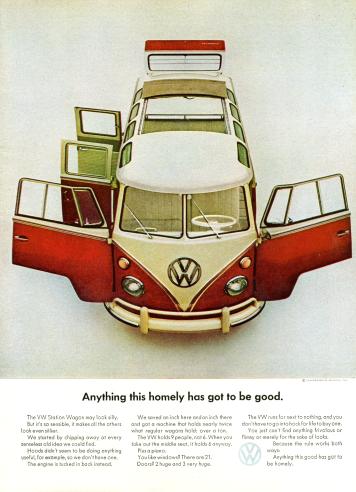 This is the story about chasing a dream. Not some perfect dream, more like a short sighted dream. In June of 1993 I bought my first VW Bus. In January 2006 I bought my second. One year later, I have owned over 20 VW's and I am wondering what went wrong.
This is a story dedicated to any fool who was willing to work hard for something that was so stupid, the people you tell about it don't just laugh at you, they looked worried and stop sending their kids over to play with yours.
Welcome and enjoy,
The Sage
It's one of those horror story situations…
In corner A we have Mike, who has two 79 Westy buses, one with a good 2.0 liter engine, but a so so body, the other; a mint condition Champagne edition, with a crappy 1.8 liter engine with no tin or compression.
The task seems straight forward: Swap the engines.
The Deal: Pull both engines, upgrade the heads, replace the cylinders, rings and pistons, replace the shocks, replace the accelerator cable.
Compensation: The other 79 Westy with a 1.8 liter engine in it, si
gned title and keys.
The Cast: Mike; The nice guy with a desire to get his bus on the road. Nameless X; The buddy who has been wanting a bus for a while now, and has "skills". Sage; The idealistic jump before you look champion from 2005 – 2008 consecutively.
The stage: We have excellent working conditions, an old mechanic's shop with tools lighting and a concrete floor.
Thursday May 7, 2009 10:30am X and I arrive to look at the tasks. Seems straight forward. I have the tremendously valuable Engine Removal in 20 Steps by Ratwell.com ready to go. We review the steps and start in on the OK bus. The 20 steps in engine removal mostly entails the wires, and fuel lines and FI systems. The three last steps include the 4 engine to transmission bolts, and the rear bracket.
We are slow to start; finding the right tools, developing a rhythm and breaking the rusty nuts and bolts takes time. The rear cradle and engine support bar take forever. This is the point that swearing begins.
2:00pm Engine one is free and on a dolly. It is fairly rough looking, but it is free from the body.
As we start on the second engine; the one in the really nice bus, we take care to make sure we are gentle and use plenty of towels so nothing gets scratched. We determine that we do not have enough clamps to close off the gas lines. X is tasked to acquire some from the local Menards. I go to work with steps 1 – 15 of the Ratwell guide. X returns as we approach the bolt removal steps. The only items left on the task sheet are the removal and clamping of the fuel lines, and the disconnect of the throttle linkage (which is vastly different from the manual version of the late bay bus).
I work on the driver side, since we are replacing all the fuel lines, I use the clamp and cut method of fuel line separation. My work is done, X is under the the bus taking forever to remove the fuel return line. More swearing, but to use such language in such a simple removal exercise is really unnecessary.
I am taking the moment in the entry to discuss safety. Since beginning this project, I have dented my car twice, had my trailer detach once, and had some minor bumps and bruises. No serious injuries have occurred. I wear safety glasses, face shield, work gloves and other things that keep me safe. Another safety tool I have is something that stops me mere moments before something really stupid happens. Call it one of the little voices in my head. I have never been to the ER thanks to a Volkswagen project.
At this moment, as I am napping, sorting tools and generally getting impatient with X's inability to pull a rubber hose off a metal tube, when all of a sudden he dashes out from under the bus, starts swearing more violently, and rips off his safety glasses.
"Fuck" he summarizes "I have gas in my ear"
Immediately, he runs out of the building, and I quickly follow him. My first thought was man, he really knows how to yell. My second thought was to flush the gas out of his ear. We start with a series of flushes from my drink bottle, but this doesn't seem to have too much effect; so much for Artesian Spring water. My third thought was that it was time to get him to the ER.
We get in his truck and race the 7 miles into Traverse City, all the while he is banging his leg up and down like the drummer in an eighties hair band. I can tell he has real pain, he has his head tilted sideways. Being thoughtful, I start yelling out landmarks along the way. If it doesn't provide a sense of hope, it should provide a mild enough annoyance that he is distracted from his flaming ear.
Suddenly he picks up his phone and starts dialing. Now I know I enjoy a meager social life, if I wanted to call someone at 3 on a Wednesday, there isn't anyone I would know to call. If I had gas in my ear making social calls wouldn't be on the list of things to be doing.
"Doctor X please" pauses, while his foot keeps thumping the floor pan. "Hey, it's X, I just got gas in my ear, and I am on the way to the ER" another pause "I'll be there shortly". This guy must visit the ER often. He has memorized the staff and phone numbers…
Traffic is heavy, but with a little weaving we arrive in an efficient manor. We get him checked in, I look like a complete freak, with grease and dirt just about everywhere. I help him with the little forms, and he is told to take a seat.
It then occurs to me that he hadn't taken the time, while the gas was sizzling in his ear, to actually clamp the gas line. I immediately leave the hospital and head back to the work space, fully expecting to see large clouds of black smoke billowing into the sky from the general direction. There isn't, and when I get back a slow but steady stream of gas is creating a pool on the floor in the shop. In the center of the vapor lake is the shop light.
Step 1: Unplug
Step 2: Remove light from gas
Step 3: Move the bus
Step 4: Stop the leak
Step 5: Soak up the gas
When the immediacy of the situation comes to a close, I think to call Mrs. Sage to discuss the goings on. She of course already knows, and proceeds to lecture me about things I didn't do.
X calls me about 4 O'clock. He wants to go back to work on the buses. I tell him that one visit to the ER per day is my limit, and that I will call back later. The doctor tells him to not smoke for a few days. Sage advice.
(More on the project later…)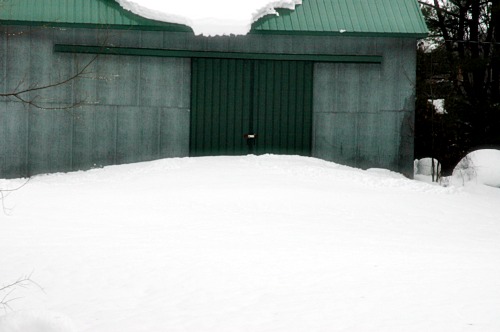 This winter has been a tough one. The snow flew early and that curtails the time I can spend working on VW's.
We had more snow in December than ever before. January hasn't been any better. My kids are enjoying the snow days. The picture here show only what hit by mid December, double the height today.
I have focused on other things; work and getting my plans together for next year. 2009 will be the year of the great reduction.
I expect to be cleaned out of most of my non project VW stuff by July. The rest will go to anyone who wants it. I have started listing several things, but in some cases, they won't be able to be delivered because every thing is snowed in.I have listed a 1963 Squareback for sale
at The Samba. This car is once again a mess, and once again pretty rare. I don't know why we have so many first model year cars up here, but we do.
I need to list a bunch of small parts too. They begin next week.
I have decided that what I really want is to restore the 23 window. The double Cab, and the other splits are cool, but it is time to follow my heart on this one.
It has been interesting to watch the effects of the economic melt down on the VW hobby. I am getting my finances more organized, but in general, my financial strata is unchanged. If anything, my phone is ringing off the hook more than last year. This will mean less time to work on VW's. It does mean more money for the budget. If I cut it down to just the 23, I might figure out a way to save on rent, but the barn is still a deal and a half.
All this stems from a new interest I have; I want to hike across Michigan. It will be a 235 mile hike in all, using nothing but trails and forest roads. With the loss of Polar, it might be set back a while. I still miss him.
Last year I was glued to the VW forums, this year, not so much. I find myself posting garbage in the "Off Topic" on the Samba, much of which gets deleted.
Maybe this is the end of the chaos portion of some mid life crisis. Now all I have left is the work to get things done. I look at guys like Lou and think how cool it would be to spend the rest of my life just cruising around in a bus with Mrs. Sage. She won't go for that, but it never hurts to ask.
It was a few weeks after Polar passed that I got an email from Bruce Whiteside. Bruce runs the rescue where we adopted Oscar.
I know this is most likely very poor timing with Polar's passing, But that is why I am writing this. Some people need to wait for the pain to heal and some heal the pain with by choosing to share their love with another needy soul.
You have probably read about Ripley the pup that was found about 3 or 4 months ago and has been staying with us. She has had a couple of homes she was going to go to, but of the 3, 2 were like you, they had a recent loss and just not ready yet, the other wants her but they never respond to us when we ask a question or return calls. We think the wife wants her, but the husband does not and deletes the messages. So we decided if that is even a possibility, we will not place her there.
Of course Mrs. Sage and I are suckers, so I agreed to take a look on the way back from a visit to my parents. She was very friendly, and came right toward me when she ran through the door from the back yard. Bruce has about 10 dogs at times, so his place is a little "Berner" ranch. All the dogs were checking us out.
We made an agreement to "Sleep on it" and although it was hard to leave after our two hour visit, we manged to escape. By this time we hit a Taco Bell for lunch, Lynda and Martha were starting to push hard to get her, but the conversation was tabled.

On New Year's eve we had a family meeting and decided to move forward. Arrangements were made, and Lynda and Martha went down to get her January 3rd.
She is hands down the most well behaved pup I have been around. Friendly, but then she calms down and just hangs out. Oscar is adapting, but a little taken back. They do get along.
I am still struggling with Polar, and she has a number of characteristics that he had that remind me of Polar, but beyond those moments, she is an excellent sassy little girl and we are welcoming into our house.
Daughter Sage mentioned "Cycle of Life" and it really is something to think about.