Category ArchiveThe Project
I am getting a little frustrated, or depressed, or just plain hazy lately… It's fall in my pinky of the world. October has been an amazing month. The weather has been quite cooperative for those of us who don't want to see the summer be chased by the pending snows of winter. The temperatures have been holding and we had what many agree was the most perfect weekend of the year. Indian summer is a magic time. Unlike the Dog Days of August or the still crisp June days filled with mosquitoes, Indian Summer has an air of excitement with pending changes of weather and no bugs. The leaves are turning, grapes are in their crush and the autumn harvest is winding down. It's a stealing moment, a final hurrah.
My lovely wife had to travel to her childhood home to tend to a sick father, and I had a date with a campground. My children have an annual fall festival at school, and we were asked to join a elite group of people who camp out the day prior to the event. This was yet another perfect chance to show off the Westy. We loaded, chopped the firewood, and headed across town to the campground.
Since we are a Midwestern destination for recreation, going to a commercial campground no matter how nice, is a synthetic experience. But with it's proximity to our prized Vasa trail, this one was acceptable.
We arrived, and opened up the bus. I escape for an hour on my bike, and return just in time for the first growlers opening. Handcrafted beer solves so many of life's problems. I am sitting in my easy chair, with my beer; Heavenly.
As the evening progresses, the kids worn down from the endless games and tags, and rides, and runs… They head for bed. Quiet and calm (and more beer).
It is at this moment with it's blend of euphoria and intoxication, that we are joined by the evening's buzz kill. SHE (it's always a she) and her happy go lucky hubby join us at our fireside. We continue on with conversation and my life's work comes up in conversation. I begin rattling off my crop of OG metal when, as if subconsciously, SHE utters the words… "But how many run?"  Those words, so sweetly uttered, hit like a bullet through my heart. An uncomfortable silence sucks the air out of our little circle. Quickly (recognizing my complete moral devastation), one of the more socially skilled in the group makes a conversational right turn. The subject never resurfaces.
What is it? Why does my hobby scare them? I didn't suspect her of being that way. SHE doesn't drive an over inflated SUV. SHE has sweet kids, and a great husband. But in one moment, like bad news from a cop, my weekend is soiled. Fortunately, I was well oiled. I was able to let the comment slide down my back.
It's not the first time, sadly; these people with the lack of insight, lack of imagination, lack of adventure. What is wrong with rust and dirt? Are we so septic a society these days that such beauty as a VW is worthy of mocking. This has me looking at the Hoodride movement in a whole new way, (but not for very long).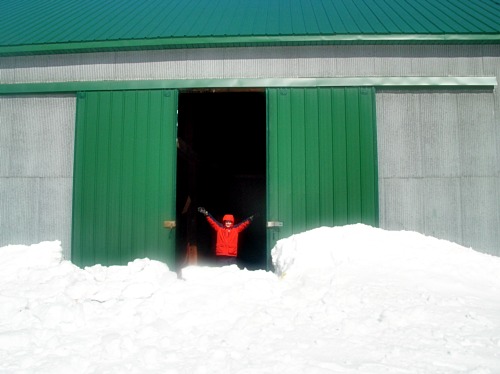 The Barn became a solution to a problem that was created in the fall of 2006. I have 23 POS cars parked in a back 40 of my buddy Tommy's property. Then one day I get the call;
"You need to get the shit out of here"
I wasn't surprised about the call, but it I still wasn't ready for it. Now what?
I drove past this barn that was about a mile up the road nearly everyday. Then one day there is a "for sale" sign up. I thought to myself that might work.
I start trading phone calls with the guy who owns it, he also happened to be the selling agent for the house I live in when I bought it. My goal is to rent the barn, his goal is to sell it to me. After long rounds of waiting for him to call me back (this is a negotiation necessity) , I finally suggest that I would consider a "rent to own" concept. This is great for me, as I am more interested in the "rent" part, and he thinks the place is sold. The way the project is going, I might want to buy the thing…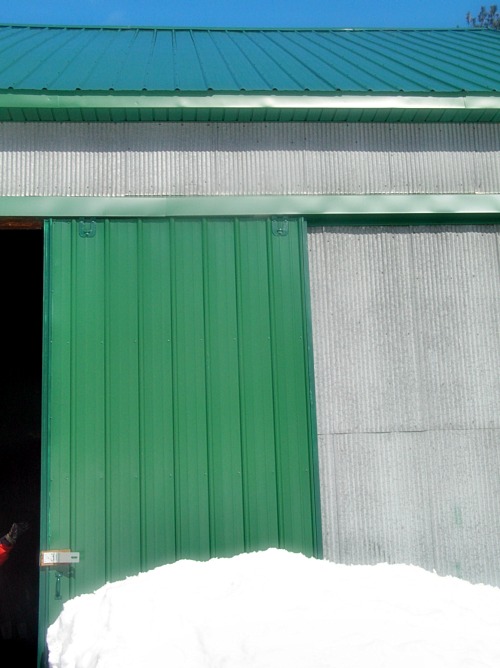 The barn has three levels: Basement with a dirt floor and poured cement (not concrete) walls, the main floor, and a upper level, which is really just a few barn board that run across the beams.
The bottom floor is currently storing the engines and transmissions. It would be sweet to pour a concrete floor and put in a workshop. It would be easy to insulate the ceiling and keep this area heated. The main floor could fit 8 vw's if I really crammed it full, but right now I have 5 buses, and the squareback inside. The third level could be reinforced to become a perfect parts storage area.
There are two flaws with the space. The first is the barn wood floors; uneven, with holes and large cracks. This makes it a challenge to roll around on a creeper or move my tool chests. I could put in a plywood floor with shims to level out a "working area" and I probably will this summer.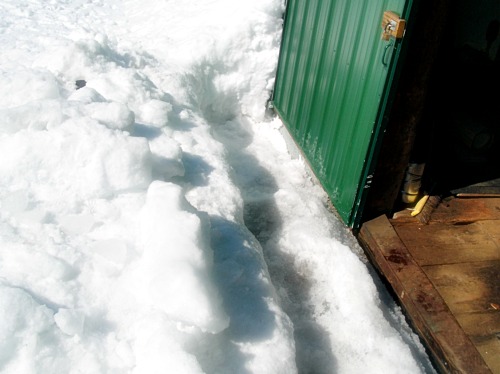 The second flaw is a bigger problem. The roof is tin and delivers a load of snow precisely in front of the doors after each heavy snow. Sometimes this just means that I need to shovel for half an hour to get in, but if we get pounded with snow like we have in February and March of this year, then a solid ice block is created. Add a few days of rain like we had, and forget about it . It has been 5 weeks since I secured entrance to it. Saturday was a nice day. Even though it was 22 degrees. I decided to try to get it open.
Loaded with 3 shovels, a hoe, an axe and a hammer, I dragged my kids out to work on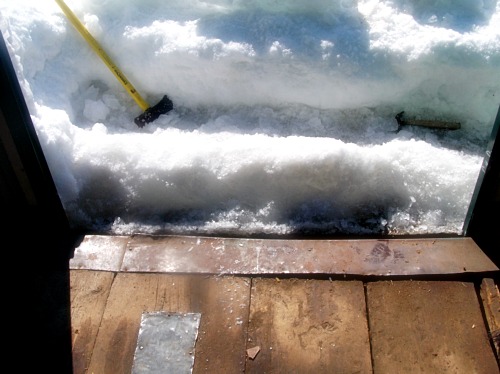 this. Now living in a mining town for 5 years taught me a few things; A) Anything can be removed with pressure and force. B) Rocks are harder than ice C) Most chain gangs are successful because they use free labor and the work is simple enough for anyone, even kids. I decided the first step would be to remove snow… this took the 5 foot mound down to about 3 feet. Next, create a trough behind the block of ice in front of the door. Then, start chipping the ice between the door and the solid block… This needed to be gentle work, because we could easily damage the thin steel walls of the barn.
We chip and muck (a mining technique) and slowly, over a period of two hours, we get to within 8 inches of the ground, and hit solid ice. It is time for Calcium Carbonate. I purchased a large bag for this occasion. We put a generous heap across the edge of the block of ice and call it a day. Wine makes a wonderful muscle relaxant. My kids each took hot baths that night.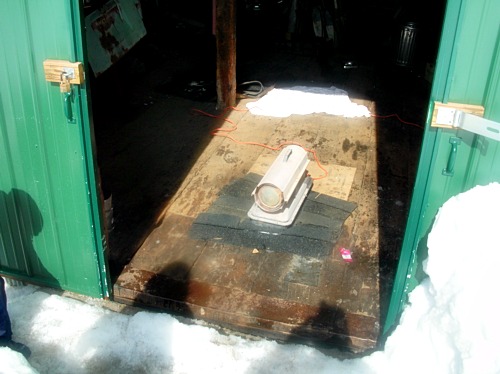 On Sunday, we return to find that the Cal Carb did it's job, and the block of ice is now filled with holes. A little chipping with a hammer,we get the track clean enough that with a little pulling, the door opens. Then we can attack the ice with heavy tools… 70,000 BTU's of heat can really finish a job off well. Once it gets fired up, the track, the block of ice, the channel all start to turn to water and wash away.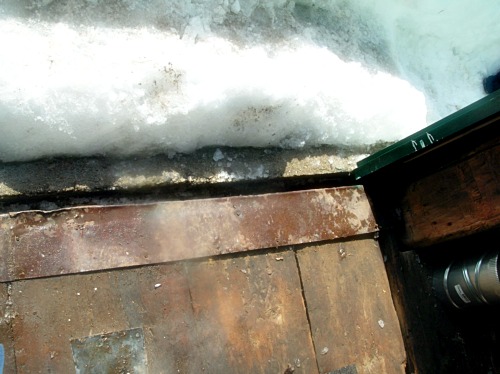 Hopefully this will stay like this for a while, and I can start to work on the right door, which is still in the same condition that I found the first one in on Saturday… just a little pressure and force and it will be open. The best part: I now can start on the Squareback engine.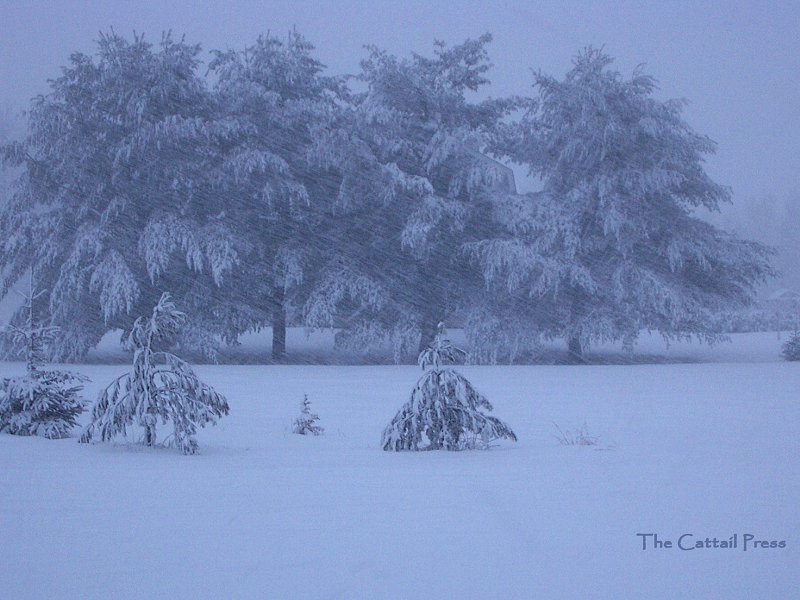 January hasn't been extraordinary this year, but it has really placed a crimp on my project. The barn was constructed in such a way that the snow slides off the roof and right into the path of the slider door. This requires much shoveling before I can get the door open, so I don't open the door very often.
We did have a bizarre thaw in the second week of the Month. This was nice as the temps were in the 50's and all the snow disappeared. I was able to unload the 65 bus of its booty. I have vocalized to a number of people that I am resembling a horder more each month that I continue to collect VW stuff without liquidating as scheduled.
To combat this concern, I completely cleaned out the T3 Squareback. I also purchased garbage bags, an act that refreshingly inspired me to clean the place. The garbage can hadn't been emptied since taking occupancy. Old Ken Senior had a lot of crap shoved in these cars. I keep dreaming that I will find a roll of $100's here or there, as did his son who thoughtfully checked ever nook and cranny of the cars he sent to the crusher.
I have also outlined the parts liquidation on a spreadsheet. I have to enter this as inventory before filing taxes this year. I run simple cash accounting.
Other than emptying out the Squareback, I have been mostly surfing The Samba and other places without a sense of purpose. The cold is too cold for me, and despite the heater that can heat the entire place, I have no desire to turn wrenches on 3 degree metal.
I did get the 69 Westy out during the thaw. It will be getting a new throw out bearing and main seal when I can get it into Tommy's shop. Let's see if it warms up.
So I have purchased all these VW's and I have to move them. Enter one legged Art. He is a passive agressive fellow who lives in a commercial forest district in a rural county in Michigan. He has a trailer for sale on E-bay. Not just any trailer. This thing is a double axel steel plate tank that was built for the post apocolapse. I think it weights more than my truck.Having never bought anything of this girth from E-bay, I drove out to look at it.
Art is a former tow truck driver from Detroit who is about my age. He is missing a leg from a (likely drunken) snowmobile accident. He is also quite racist if you allow the conversation to head in that direction. He claims that he has driven over African Americans with his tow truck. He tells me this assuming A) I would approve B) It is what any good racist should do. I doubt his story.
My trailer is purchased via a winning bid, and I return to aquire it. It has no lights, and the brakes are shot. $433 later the friendly fellas at the brake shop have the wiring and brakes completed. I also install a electonic brake controller in my truck.
Once this is completed, I need the second most important tool of the project…A winch.
WARN History


Founded in 1948 by Arthur Warn, Warn Industries began producing locking hubs for surplus World War II Jeeps, converting thousands into useful, on-road vehicles. Originally based in Seattle, Washington, Warn Industries' innovation revolutionized the hub industry. The WARN® winch, developed in 1959, was the first recreational winch. With pioneering features such as a rugged drive train, the WARN winch quickly became the leading brand for off-road racers, avid four wheelers, weekend adventurers and hard working ranchers.
Warn Industries added to its product family throughout the 1970s with manual and automatic hubs for all 4WD vehicles, new electric and hydraulic winches, severe duty winches and new winch mounting systems. By the end of the decade, the company began its long-standing relationship with Ford Motor Company, established worldwide product distribution capabilities and opened manufacturing operations near Portland, Oregon. The WARN severe duty winches have since become the "winch of choice" for manufacturers such as AM General, manufacturer of the Hummer.
With creditentials like these, is there any reason to buy something else? $390 spent at the Farm supply store. Now I have Trailer, Brakes, Winch and a credit card bill. I am ready for battle…(continued)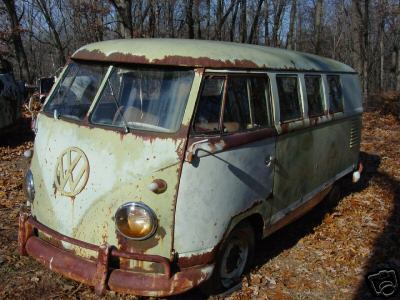 This is the second bus I even owned…This is what happens when you're bored on a December afternoon when it's too cold to go outside. I was surfing E-bay when I spoted this little gem…$832 later, it was mine.
Next step: Getting it home…I don't own a trailer, or at least not yet…Friends with trailers are often a handy thing. In this case I got one..
So on a Sunday evening I head off to points past St Louis to get this bus. On the first night I end up in a crack hotel in inner St Louis. "No thanks, I'm not looking to a date just now…"
| | | | | | |
| --- | --- | --- | --- | --- | --- |
| Start | Traverse City, MI | End | St John, MO | Travel | 597 mi (about 9 hours 21 mins) |
I arrive at the sellers location, and it's quite a place. He and his son restores VW's. He was a pretty cool guy, and it looks like he does good work. He recently sold a 23 window for $35,000. He has about the ideal situation: He has a personal campus; House, 6 car garage (which I would have loved to see what it housed) and a large office suite above the stalls. He took an old log cabin he found on his property and moved it into his yard. He uses it as a place to go to read. Finally, he has a well heated and powered 30 x 40 pole barn. I would love this set up.
Getting the bus onto my trailer was harder than originally thought. It rolled, but I didn't bring a winch. The seller took a tractor and pushed it on, no damage. We finish our final business of titles and such. Then I'm off for home.
You never knew you had friends on the road until you tow a 1960 "Hippie Bus". I have driven perhaps 1.3 million miles in my life, and I have yet to have as many gas station conversations than when I was towing that bus. An old coger reminessed about his days in the sixties, and it goes on…
The drive was slow and tiresome, but I made it home averaging 16 miles per gallon.
So here I am in January, with a bus. Now what? I put it at the storage lot I live near and figured I would wait until the spring to put it back together.
Two months later I hit the pay dirt and my plans changed. I "flipped" it for about twice what I paid for it to some fellas in Miami. Getting it to them was a pain and took 5 months. They paid in advance and it ended well.
Recently, they had it for sale for $4,500 after fixing the brakes and the engine.
Here are the Air Cooled VW's I have owned or own.
1977 VW Campmobile Westfaila – Aquired June 1993, Grand Rapids, MI. Traveled through 21 states, 2 countries. Repainted, Rebuilt engine 2007.
This has been restored completely. Rebuilt top end on the engine, paint completed, new coat on the roof, interior panels restored, and all the missing parts replaced. Let's face it, I asked my wife to marry me in this bus, and children have been conceived here. This is my baby.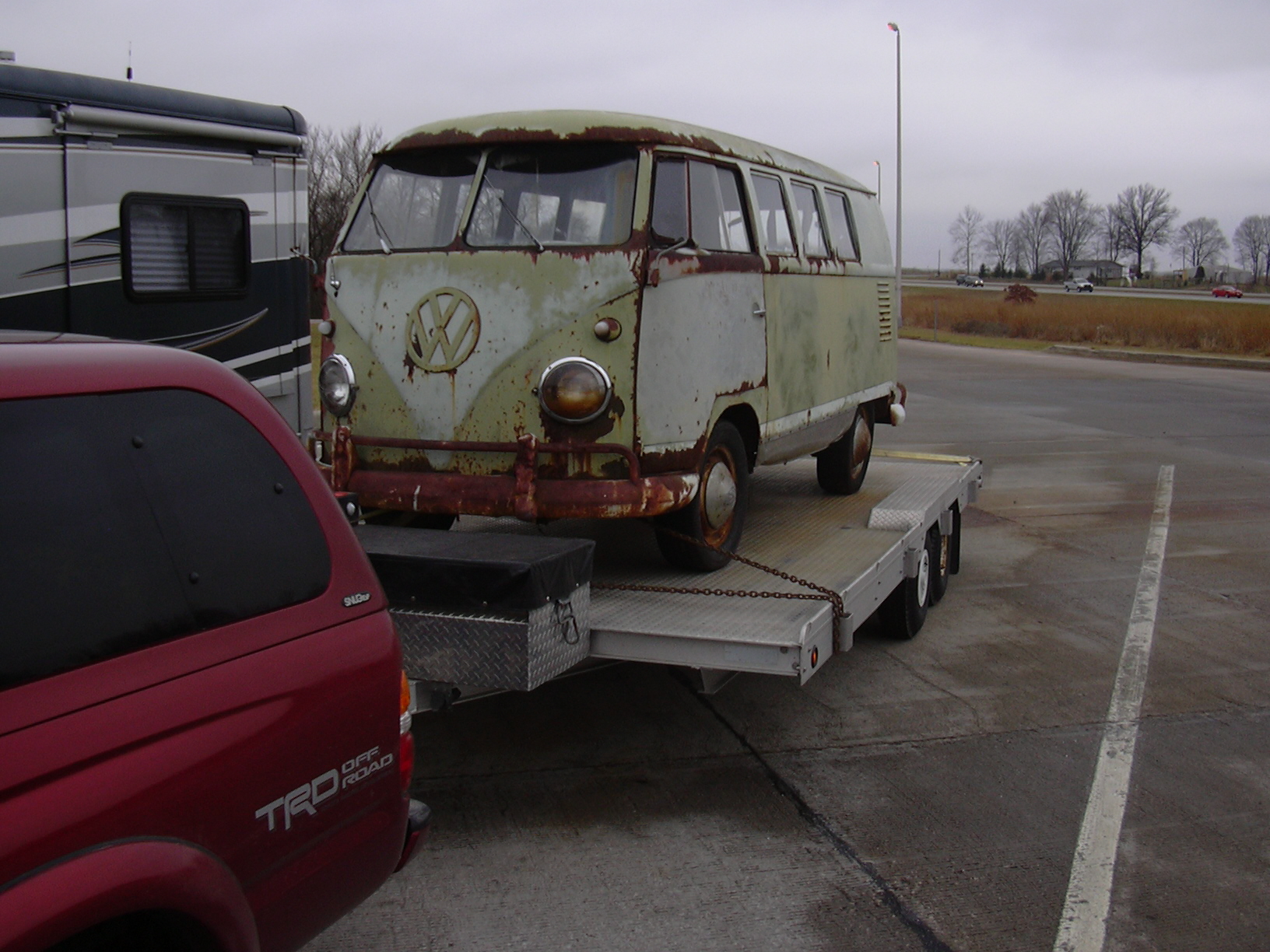 1960 Standard Mango Walk Thru. Purchased in December 2005. Really rough condition, but a rare model. Was ready to restore when I found the VW's at Fosters. Sold in June of 2006 to buyer in Miami, took 7 months to get the buyer to take delivery. Saw it for sale in 2007 with a working engine and new brakes. I wish I kept this, but too much of a project for a starter.
To this day, people ask me about this bus.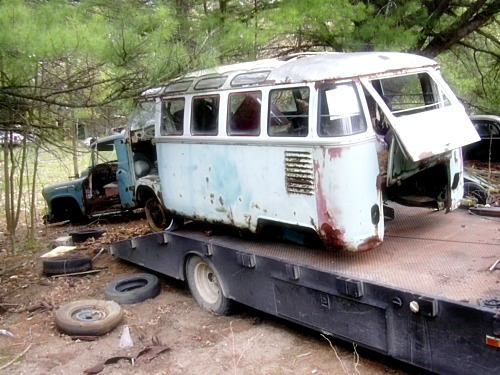 1962 Microbus 23 Window Deluxe. Serious project to restore. Frame solid, 85% complete. Have Transmission and Engine built. Plans include a strip and e-coat, and complete interior and exterior resto. 5 year plan.
Have correct seats, engine, all the trim, a RGB Transmission, Glass. I need replacement parts for rockers, rear corners, floor, belly pans, and dog legs. Will need interior wall panels, new upholstery, and various gauges will need to be rebuilt. Found in the "Nest" find along with 21 other VW's
1965 Microbus Deluxe Hardtop. Hammered condition, will be a donor for the 23 Window project. Caved in roof, rotted frame, original gas heater, walk thru. If the frame wasn't gone, it might have been a keeper. The PO cut the wells, and put all kinds of additions to it. Has many valuable parts, but it will be scrapped. Of the22 vehicles I purchased at"The Nest" Only 5 remain. The others had useful parts that went to needy VW owners, but were too far gone.
1961 Double Cab This was found at a recluse's home near me in 2006. Missing the transmission and in need of floors, it is a second tier project. It might get sold prior to me working on it. EDIT: In August 2008, I located a 61 Single Cab that had many donor parts.
It came with a galvanized sheet metal "Tondu" cover that has the original hoops (cut down) weld to it.
1964 Panel After market Camper Conversion Found in a parking lot at the campus of Northwestern Michigan College. Purchased from a student needing to make tuition. Had no interior originally, but I located a good interior in 2006. Purchased February 2006. Engine work fall 2008, brakes in spring 0f 2009.
This will be a fun bus for someone who I will sell it to in 2009.
1958, 1956 Ghia Coupes
Found in the "Nest" find. The 56 could be restored, the 58 is nothing but parts. Will be parted and sold by late fall 2008.
1969 Type 3 Squareback Found in the "Nest" and my wife fell in love. Currently restored without new paint. Engine complete fall 2008. New brakes, interior, tires, and lots and lots of scrubbing. Will eventually paint it, and make sure the heat works. Mrs. Sage plans on this becoming a summertime daily driver. We plan on getting a luggage rack and shoulder belts for the back seat.

1963 Microbus Deluxe 13 Window Decent condition. Purchased in the U.P. at a salvage yard. Owner claimed to have a barn door, but died before I could track it down. Came with an original middle seat. Needs brakes and a good cleaning. Has an unidentified paint color on the M-code. Was originally delivered to Washington DC, but ended up in Wisconsin, then must have broken down in the U.P. Spring 2006.
1969 Deluxe Westphalia Camper Born the same month I was. Purchased from the original owner in Spring of 2007. Restored engine, cleaned it up, replaced the brakes, did minor repairs. Sold in the spring of 2008 to a mutual friend for the PO and myself. Nice bus, but I had a baywindow camper. Took it on a road trip before selling.
Other VW's owned but not kept